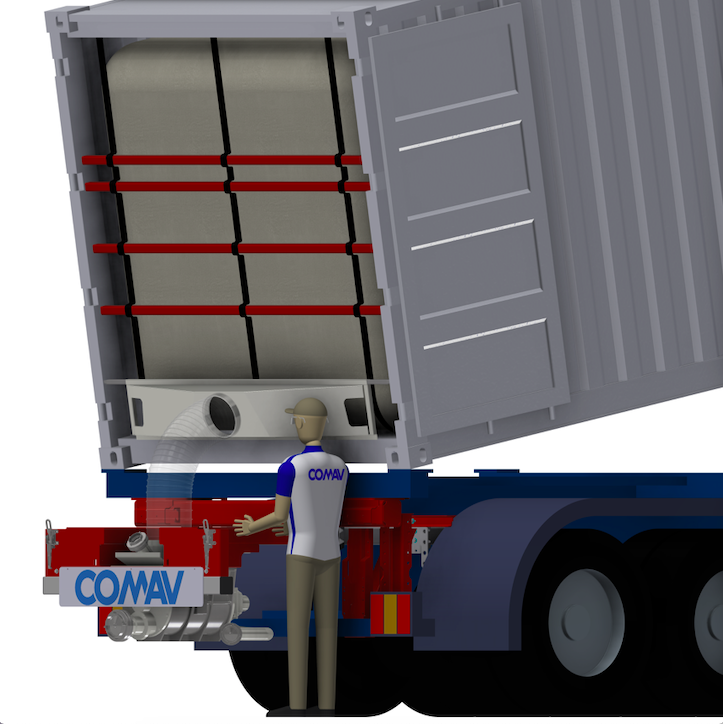 EMPTYING SOLUTIONS
For COMAV, the Logistics and Transport division represents the perfect combination of the components we produce and our experience in defining the most suitable engineering solutions for unloading or filling containers.
Container tilting can be carried out with or without a semi-trailer on all standard sizes (20', 30' and 40').
The unloading of the container occurs in two distinct stages and depends on the client's needs.
Semi-trailers can be equipped with our VSFC 320 rotary valve and come complete with all the necessary accessories for manoeuvring the trailer and the pneumatic transportation of the materials. However, if the semitrailer is not compatible with a rotary valve, it can be supplied on a platform with a compressor. Alternatively, if the semi-trailer is equipped with its own compressor, it can simply be installed on a transpallet.
We currently collaborate with many logistics companies, where the handling of products, such as coffee and cocoa beans, requires specialist experience, a factor that makes COMAV a reliable partner for any solution in the bulk handling of unpackaged products in the food and plastic industries. 
REQUEST INFORMATION
COMAV staff are here to help you with all your enquiries about this product!
CONTACT